Automatic image background remover
Manage rules for removing bacgkround and recoloring on uploaded images
The Automatic image background remover section (available only with the activation of the IMAGE BACKGROUND REMOVING AND RECOLORING add-on) allows you to add, modify and remove rules on the removal of the background and recoloring images uploaded from customizer.

Rules can be activated both on printing methods and on products.
When the final customer will upload an image of his gallery on a product covered with a recolor image background rule, he will also have the choice to remove the background and eventually recolor the image.
Note: this add-on feature works only for SVG, JPEG, PNG, EPS and PDF images.

You can naturally manage them here, adding new rules or deleting those already set.
The addition of a new rule happens when you click on Add rule button at the top right of the section.

Into the window that appears insert the name of new rule and its specifications: background removing and recolor behavior and scope validation of rule (printing methods or products), then click on Add.
1. Background removing and recolor behavior
You can choose if remove only the background of the image or in addition recoloring the image. You can choose to recolor all the recognized colors by checking 'Enable Multirecoloring' or recolor them with a single color. The new color can be chosen from a customized color list or by the activation of colorpicker. If the customized color list has only one color, the image uploaded will be automatically recolored with that color.
2. Printing methods and products scope validation
Through these options you can define the association of the rule with the printing methods or products of your catalog.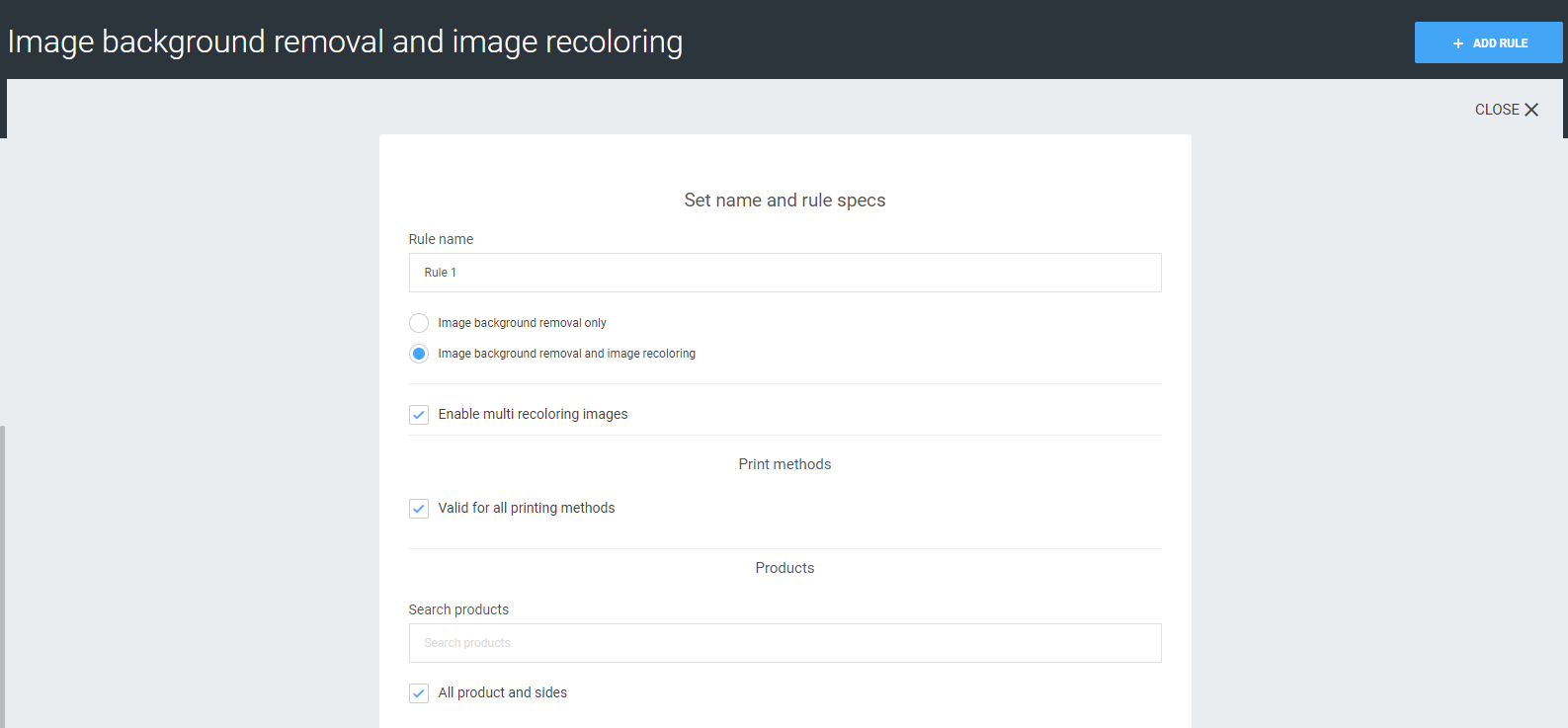 You'll be notified on saving completion of the rule with a pop window.
The elimination of a rule happens when you click on bin presents at the bottom right side of each rule on the list.
You'll be asked to confirm the elimination on the pop window.
After confirmation, the system will notify the correctness of elimination.
The elimination of a rule from the list is an irreversible process and it can't be undone.